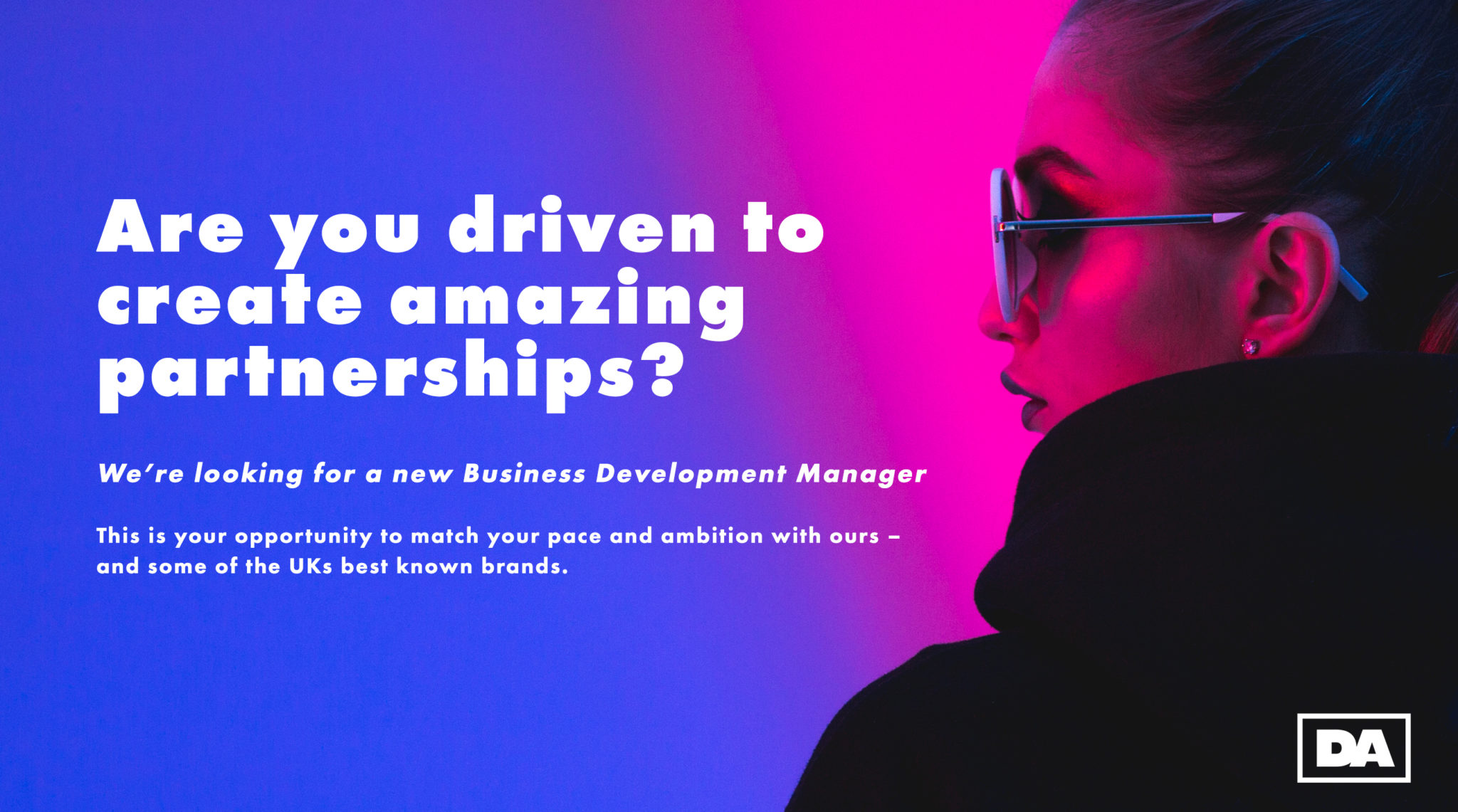 Are you permanently curious?
Extroverted, and passionate about developing new connections?

As Business Development Manager, we are looking for someone who isn't afraid to roll their sleeves up and research new partnerships. You'll also need the confidence to work with our creative teams on client pitches at the highest level. We work with clients across UK and Europe, with a particular focus on consumer goods, including health foods and mail order. We're looking for someone tenacious, thorough, and determined. You will have significant previous experience in B2B environment, perhaps as a Sales Development Representative, Sales Specialist or Business Development Executive, ideally from the service/creative/marketing sector.

As part of our growth plans, there is excellent scope for potential with this role to management and beyond. Ready to take the next step up?
Responsibilities:
Maintaining working relationships with existing clients to ensure exceptional service and identification of potential new sales opportunities.
Development and growth of relationships with internal colleagues, third parties and external organisations to support service delivery.
Development and growth of relationships with key targets and connections across the UK.
Liaise with partners to solve issues, communicate needs and create synergy to deliver an exceptional service.
Creating and managing timelines, project folders, status reports and project decks for internal and external use.
Supporting sponsorship and other fulfilment pre, during and post events.
Lead and manage hands-on marketing campaigns across digital channels.
Seeking new opportunities including virtual and in-person networking, tender writing and pitching (virtual and in-person).
Develop robust strategies to drive further growth within Drunk Animal and communicate these strategies effectively to all teams.
Work independently and with managers to identify marketing needs and work with the Creative Director to develop marketing initiatives and plans.
Identify key metrics to evaluate data both quantitatively and qualitatively. Streamline operational workflow by identifying and eliminating bottlenecks.
The ideal candidate will have:
Exceptional interpersonal skills.
Strong copywriting skills.
Ability to motivate, manage and inspire staff.
A multi-tasker who is highly organised, thorough and able to prioritise tasks accordingly.
Ability to meet deadlines.
Meticulous approach to all aspects of the role.
Salary: £35,000 pa plus £15k on target earnings
Generous Holidays & Birthdays off!
Hybrid Working (60% Home, 40% in our Hull based Creative Studio)
Unlimited progression opportunities
To apply email careers@drunkanimal.com with your CV, cover letter and any relevant information you think will blow us away.